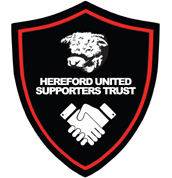 Hereford United Supporters Team v Hereford Mayors XI
24th August 3pm Kick off Broomy hill
Hinton FC hosted this event to support the HUST and Mayor of Hereford in significant game of football in the history of Herefordshire.
The delightful home of Hinton FC at Broomy hill was a popular venue for all football supporters of the Hereford United Supporters team, with the appearance of several ex Hereford United players, and the return of Graham Turner and John Layton to manage the teams for the match. The challenge of the Mayor of Hereford select XI, which included a number of recognisable faces from local football and three Hinton U17 players, was well met in an entertaining contest. The ex professional players orchestrated the pattern of play, with Simon Johnson rolling back the years with a deft performance.
The donations to the Adam Stansfield Foundation and the Mayors Charities, was very generous, and was bolstered by the auction of a signed Wolves shirt with the players from the 2014-15 season, a Venetia Wiiliams race day, and signed match balls which all provided significant donations, to donated gate entrance.
Hinton Football Club, provided a refreshments, and the support of Graham Goodfellow, Simon Hall, Andy Taylor, Mike Marsden and family, Steve Saunders, Jack Harris, Jordan Mussell, Steve Cuss, Rod Haslam, Dave Landon and Graham Andrews and family was invaluable in delivering a great event that promoted Hinton Football Club well to the visitors, that included the Mayor of Hereford and councillors Williams and Kenyon, MEP Jesse Norman.
This was a great day, and shown what can be achieved, when a local community works together to provide an enjoyable event.
Please come down and support local football at Hinton
http://bullsnews.blogspot.co.uk/2014/08/charities-benefit-from-this-afternoons.html
https://www.facebook.com/hufcfansteam
http://www.hufctrust.co.uk/fans-team-record-first-win-successful-charity-day/