Hinton Junior's Home Page
As part of our commitment to safeguarding U18s in football, the FA have created an online survey.
This feedback is essential to help us make improvements in the game for all involved. The FA are also developing the FA Website to better engage with children and young people and we want to hear what type of content they would like to see.
We've had some really useful feedback already. Please could all players Under the age of 18 complete the survey to help us improve Football for all Children.
You can access the link here:
-------------------------------------------------------------------------------------------------------------------------------------------------------------------------------------------------------------
HINTON FC coaches are DBS registered and your welfare is of our prime concern. If you have any concerns regarding Child Welfare issues please speak to our Club Welfare officers (see the About Us Tab).
For further info or help please either visit:
Childline https://www.childline.org.uk/get-support/contacting-childline/ or call 0800 1111
or visit the CEOP Site at:
https://www.ceop.police.uk/safety-centre/
BOYS and GIRLS WELCOME
PLEASE CONTACT Mike Andrews on 07917 275042 or Steve Gibbs on07904 286015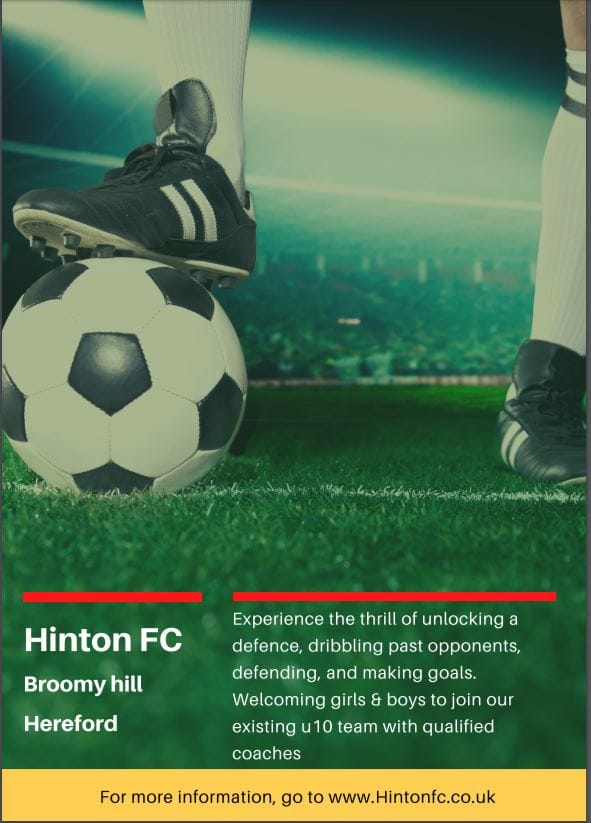 PLEASE CONTACT U13's U14's Wayne Teale on 07580488118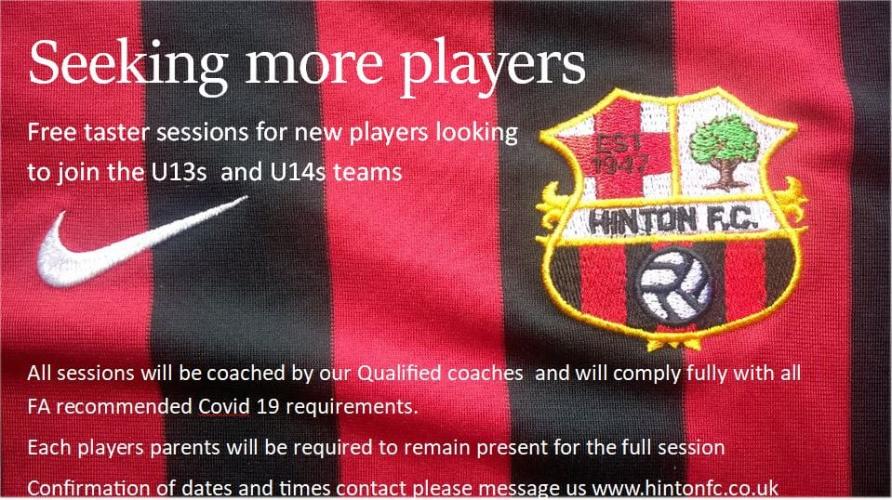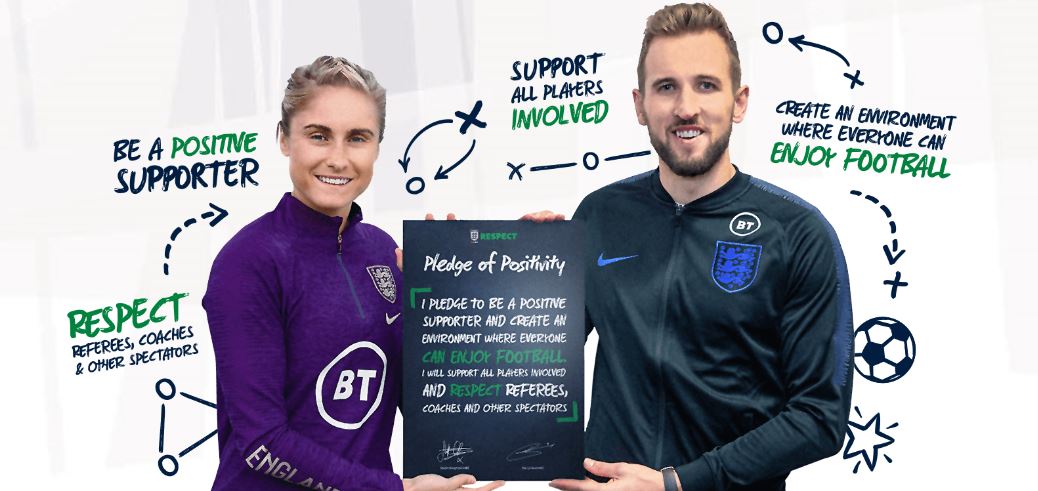 Welcome to Hinton Football club. As the Chairman of Hinton Football Club I would like to thank you for choosing to come along to Hinton Juniors and I would also like to welcome you to Broomy Hill.
I hope that your time with us is enjoyable and that every child goes away with a smile on their face having either enjoyed their training or match session.
In order for this to happen we all need to ensure every child is actively encouraged to do well and ensure "fair play" is adopted at all times. We actively police our junior football and will investigate all allegations of poor or unsporting behaviour. We are proud of our Chartered Standard awards and at all times will adhere to The F.A Best Practices and the FA RESPECT program. Child Protection is a prime concern at Hinton FC and we offer any parents or volunteers who wish to become more involved in the club the chance of taking part in HFA run workshops on both Child Protection and Emergency First Aid. Anyone failing to adopt our procedures and best practices will be asked to leave the site (we are here to protect and encourage children's football development).
Our Junior development committee has strict guidelines on how we wish to see football coached, played and developed at Hinton FC and we will guide our coaches accordingly. All of our coaches are encouraged to extend there coaching qualifications and improve all aspects of their coaching. Hinton FC was formed in 1947 and has been providing football opportunities to the people of Herefordshire ever since. The last few years have seen a huge growth in Junior Football and we are proud to be one of the largest and most popular clubs in the county.
All of the children that sign on with Hinton Juniors F.C. will be required to pay a monthly subscription of £22 per player. This has proved a very a popular method of paying subs, as it allows coaches to concentrate on football and not collecting money, and means parents do not have to worry about giving money to children every week. It also proves good value for money as it works out cheaper than paying subs for every session.
Each player paying by either direct debit or monthly cash payment will receive an individually numbered, non transferable Membership card. This payment is not calculated on a per match/session basis, it is a club membership scheme for all regular team members for the year. Saturday club players will not be expected to join the scheme. Any player / parent not wishing to pay by direct debit will be welcome to pay a fee of £3 per Training Session & £3 per match.
Currently we have squads at U10 Mixed, U12, U13,U14, U17 Youth and U16 Girls, as well as 2 senior sides, The senior teams are all self funding and supported by sponsorship from local businesses. We are constantly looking for enthusiastic coaches to join our club, to expand our junior section for both boys and girls football. For new coaches, Coaching qualifications will be paid for by the club (subject to accepted CRC disclosure, vetting and a retention agreement) for anyone who would like to get involved in coaching/managing a junior team. Please see our code of conducts page for club rules and expectations.
Experienced Coaches are of course also welcome.
Unlike some local clubs, the senior sides do not use the main club's money to survive. All senior side are self funded using sponsorship from Local businesses, fund raising activities and player subs to support them. Graham Andrews - Hinton FC Chairman