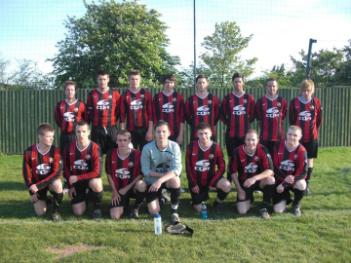 Above - Back row left to right:Neil Walmsley, Rod Haslam(C), Matty Evans, Kiea Cowley, Pete Myles, Jody Dawe, Elliot Body. Front:Luke Semple, Andy Mowen, Tom Dawson, Kai Bond, Gareth Bowley, Scott Tippins, Darren Birch
The second 45 mins was less eventful with Hinton controlling the game for long periods, and Wellington having to replace Dan Tecza in goals following an injury. The final whistle was met with celebrations from Hinton, as the clubs senior side again tasted success that has been absent in recent years.
HINTON FC winners of the Strongbow Senior Cup Final.
A good attendance at the Strongbow Cup final were entertained by a strong Hinton start to the game with Rod Haslam and Andy Mowen, both seeing strong headed efforts cleared from the goal line by a hard working Wellington defence. Hinton took the lead in the game with Andy Mowen rolling the defender to drive home from 25yards. The lead was quickly doubled by Neil Warmsley who curled his shot around the defender into the far post to provide Hinton with a two nil lead at the break.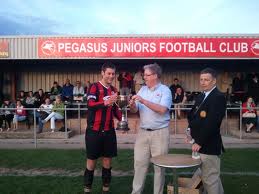 Left - 1st team captain, Rod Haslam, receiving the Strongbow Senior Cup at Pegasus Junior's ground Old School Lane