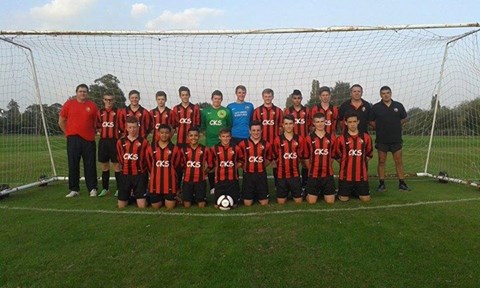 Go on then tell me who is in this photograph starting at the back left please?
Back row Mark Hill????????? Simon Hall, Kenny Scotford
Front row ????????
Success at the Sue Parry Football tournament raising funds for St Michaels Hospice, for the youngsters at under 16 level.
Kenny Scotford, Mark Hill and Simon Hall have coached the lads tirelessly through the close seasonmonths and these is great early season success for them.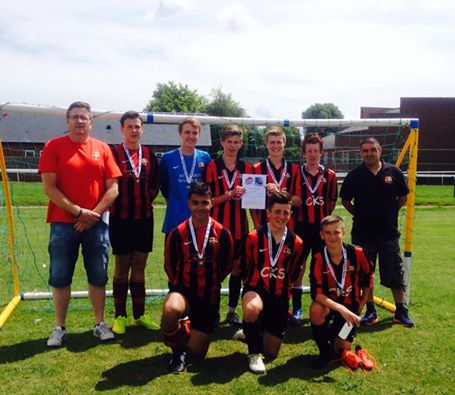 25th Jan
Hinton colts 4 v 3 Fownhope
A fantastic end to end game where the lads took a 3-1 lead and then secured the victory.
where have all the players gone? This team needs to reform quickly please, to ensure all future games can be played.
11th Jan 2015
The lads when to Tenbury with ten players, battled well, and unfortunately could quite hang on.
16th Nov Lads Club 5 v 2 Hinton Colts
I don't know what happened perhaps some one could supply a report and email it to Hintongraham@hotmail.co.uk
28th Sept Golden Valley 3 v 2 Hinton Colts cup
With a number of players missing due to injuries/commitments etc the Colts had a skeleton 12 man squad for this match, after a slow start on a hot/sunny afternoon we concede a sloppy early goal after this the boys settled and started to play some good footy in the first half in their 4-5-1 formation. A few chances were created after good midfield work on numerous occasions by Jordi, Jack , Ben , Will and Alistaire, and with a growing confidence throughout the team.
In defence the first half saw a solid display by Dan Wood and Dan Randell on his debut at centre-half along with inspiring defending by Kieren and Cory against a very speedy Golden Valley front three. However unfortunately after all their efforts we fell 2-0 behind due to a hit and hope through ball from Golden Valley with their centre forwards pace getting the better of our defence to score past Ash,who up until then had shown great confident goalkeeping throughout the half. Towards the end of the half Will swapped with Dan Woods and the side tried the hardest to get back into the game with loads of energy and effort from all players unfortunately without reward.
After an encouraging team talk at half time the boys went out for the second half full of hope, and after again playing some good football and defending well the lads started to threaten the Golden Valley goal with their keeper making a great save from a rasping shot from Ben Richardson . Young Jordi was now starting to run riot down the right wing we began to play attractive footy which was rewarded with a cracker of a goal by Jack Manual beating their keeper with a shot from outside the box into the bottom corner, this was the break the lads needed and the lads took confidence from this and after more great team work by all players through the rest of the half the pushed hard for the equaliser. This came with around 10minutes to go after a period of good Hinton pressure with Jack again popping up in the box to shot past the keeper...2-2 !
Heading for extra time the lads pushed their exhausted legs to the limits trying for the winner only to get beaten with seconds to go by a good strike from 30 yrds by the Golden Valley striker , all the lads can take a lot of positives away from this game , giving a great team effort by all
Well done